Leopards thrive in ecosystems with ambush landscapes, safety from lions, and good water sources. They are very elusive, often shy, and prefer nocturnal activity, all of which make them a challenge to observe on safari. Luckily, in some safari areas, individual leopards become habituated and are comfortable around safari vehicles. This provides the opportunity to witness a variety of behaviors such as courtship, mothers with cubs, and even hunting. Though quite rare, it is possible to see these magnificent cats in their recessive melanistic (black) coloring, also called black panthers.
The opportunity to drive off-road, night drive, and see leopards outside of dense vegetation also results in higher encounter rates. It is best to communicate with your travel planner during the safari planning process if leopard sightings are a priority for you.
Best Places to See Leopard on Safari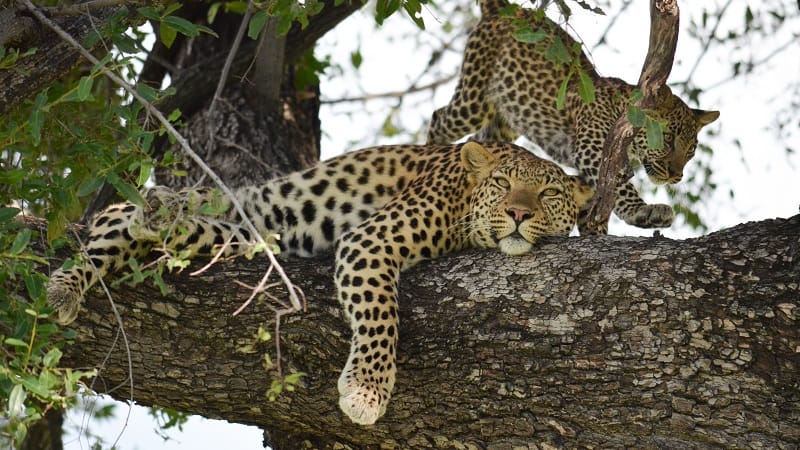 The best leopard viewing is within the Sabi Sand Game Reserve, adjacent to the Kruger National Park in South Africa. It boasts the highest density of leopards yet recorded in Africa based on a recent study by Panthera in partnership with Singita. In addition to the high density, the leopards are highly habituated, which provides opportunities for close-up viewing. It is common to see a leopard daily in this reserve, and depending on where you stay, you may see a number of different individuals in one day.
There are local areas within the Serengeti and Masai Mara that are known for frequent leopard sightings during daytime visits. Selecting a camp well located within these areas optimizes for the chance of leopard sightings while avoiding vehicle crowding.
Luangwa & the Lower Zambezi
Zambia's South Luangwa and Lower Zambezi National Parks are other leopard hot spots. They are especially prevalent on night drives, but also frequently seen during the day. On Darcie's visit to the Lower Zambezi in 2019, she had 16 leopard sightings in three days!
Botswana's Okavango Delta is a prime ecosystem for leopard with a high density in the Khwai Community Concession adjacent to Moremi Game Reserve. For less vehicles per sighting, the private concession areas of the Okavango Delta offer good chances to encounter leopard along with the flexibility of night drives to explore during the more active hours. Because these elusive creatures are skilled at evading even skilled masters of the bush, having a team consisting of a guide paired with a tracker who can "read the road" increases your chances of encountering these animals. From the Okavango Delta, visitors can accompany masters at work as Bushmen trackers follow the leopard spoor. The tracking effort is exciting and rewarding in it's own right and often results in finding one of these gorgeous cats. The Savute Channel just north of the Okavango Delta was made famous by the BBC documentary, Africa's Fishing Leopards. While this area is still strong for leopards, the channel is in a cycle of drying out and game reserve regulations prevent night drives or off-road driving.
Namibia's Africat Foundation based in the Okonjima Nature Reserve is a premier location to witness carnivores and other endangered species such as aardvark, brown hyena, cheetah, and leopard. The rescued animals live in large enclosures, many unable to return to the wild, and offer the chance to provide education and research opportunities that contribute to greater conservation efforts.
Learn About Other Wildlife