The Serengeti and Beyond:
Explore Untamed Wilderness
For many, Tanzania offers their dream safari: staying under tented canvas and traversing wide open plains teeming animals. Tanzania also holds a special place in our hearts as the home of The Wild Source Tanzania. With nearly 30 years of guiding experience, Managing Director Deo Magoye has expertly developed our elite guiding team, a fleet of customized safari vehicles, and a full ground operations team based in Arusha.
Tanzania is loaded with famous destinations, like the Serengeti, Ngorongoro Crater, Zanzibar, and Mount Kilimanjaro. It also has parks that are barely known, yet would be the crown jewel in almost any other country, like Ruaha, Katavi and Mahale National Parks.
The majority of tourism takes place on the Northern Circuit, which includes the Serengeti, Ngorongoro Crater, Lake Manyara, and Tarangire. A special feature of a Northern Circuit safari is that travelers will have a private guide and vehicle that stays with them throughout their entire safari. Northern Circuit safaris are typically planned around the movements of the Great Migration. Alternatively, safari destinations in southern and western Tanzania are considered some of Africa's best kept secrets. These less crowded parks can provide unique experiences in remote wilderness, such as trekking through jungles to observe chimpanzees.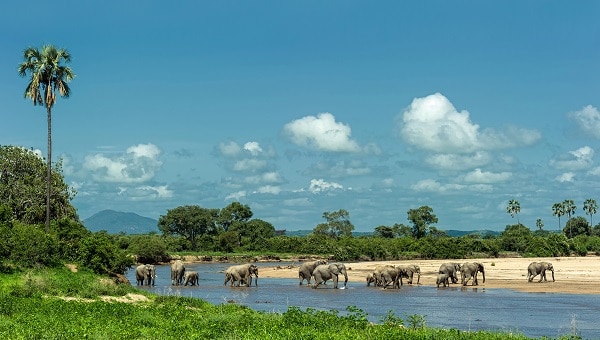 Top Tanzania Safari Locations
Gombe Stream National Park
Gombe Stream National Park is the site of Jane Goodall's chimp research. Along with Mahale Mountains National Park, this is also a very good place to view chimps. Trekking tends to be more difficult than Mahale due to the fast-rising terrain.
The beauty of Gombe is there is only one safari camp in the area. However, the beach is pebbles instead of sand, and it lacks the variety of water activities offered at Mahale.
Gombe Stream National Park is located in western Tanzania, along Lake Tangayika just south of the border with Burundi. The park is Tanzania's smallest, just a small strip along the lake that encompasses just 20 square miles.
Access is by flying into Kigoma and then transferring one and a half hours by speed boat to Gombe Stream. Like Mahale, there are twice-weekly scheduled flights that continue on to Kigoma after stopping at Katavi and Mahale.
It is also possible to fly from Dar es Salaam to Kigoma or from Arusha via Mwanza to Kigoma. There are more flexible options, and potentially cheaper flights, to reach Gombe which might make it a more affordable chimp trekking option than Mahale.
Gombe is primarily about chimp trekking. There is also excellent olive baboon viewing and potential for a couple other primates as well as secretive forest mammals like bush bucks. Along the lake are excellent birds like African fish-eagles and palm-nut vultures.
Gombe Forest Lodge is open all year except for March and April when there are heavy rains. The driest months, June through October, may have the easiest trekking conditions. It is best to plan timing for the best game viewing on your traditional safari with the knowledge that the chimps will be an excellent addition at any time of year.
Katavi National Park is likely Africa's best-kept safari secret! In most countries this park would be the star attraction. Due to its remote location and the famed migration in the Serengeti, this park has been an afterthought, largely reserved only for safari aficionados.
In fact, Katavi receives around 1,200 visitors a year while the Serengeti may have close to that in a single day. A few times, we have sent clients in Peak Season, and they have returned saying there were less then 10 tourists in the entire park.
Studies suggest that the mammal biomass in Katavi is the highest per-square-kilometer of any major park in East Africa. Of special interest, Katavi boasts Africa's greatest concentrations of buffalo with herds that can number close to 3,000 and an estimated 60,000 in total throughout the park during dry season.
When there are that many buffalo, lions are sure to be well represented too. Uniquely, some species that can normally be shy and difficult to observe like roan and sable antelope, can appear curious in Katavi and sometimes behave as if they have never seen a game drive vehicle.
Katavi is a great place for those who want to see the wilds of Africa in a manner that approximates what early explorers would have seen with wildlife not so habituated to constant game drive vehicles.
There are scheduled flights to this remote park just twice a week. Most guests either come for three- or four-night stays, with some staying a whole week. The flight path from Katavi continues on to Mahale, thus the two destinations are frequently paired together.
This makes a fantastic wild west itinerary, which can be easily combined with the Serengeti or Ruaha for a 10-day or longer safari.
The concentration of large animals in Katavi is staggering. This park rivals anywhere for sheer quantities of buffalo, hippos, and crocodiles. Late in the dry season, groups of hippos and crocs pile shoulder-to-shoulder by the hundreds in the remaining water, making quite a spectacle.
Lions are the most commonly-seen predator while leopards inhabit the woodland edge habitat. Other plains game abound, and elephant, African wild dog, giraffe and rhino are also seen.
Katavi is at its best during the dry season of June to November. In most dry season parks, conditions improve as the season progresses. In Katavi, many use this strategy to see the hippo and croc concentrations. We also recommend the early part of the season when there is still so much to see; the river is full and buffalo bulls line the banks.
This park is worthwhile outside of the dry season for its spectacular nature and the adventure the park delivers. During the low season, it would be wise to combine Katavi with the Serengeti for optimal game viewing along with adventure and nature's beauty.
Lake Manyara is a nice little park that is typically visited on the northern circuit. It is good for highly habituated animals and especially birds. There are over 400 species of birds in Lake Manyara National Park, making it a wonderful destination for those looking to do some birding.
Unfortunately, Lake Manyara is often included as a day trip on tourists' itineraries, which leads to crowding and relatively poor quality. There is one major road used to enter and exit the park, and vehicles crowd in and jockey for position at sightings along the road. Thus, we often skip Lake Manyara as we prefer to have an additional day for the wonders of the Serengeti or for Tarangire.
The exception to this recommendation is for trips with enough time to go deep into the park and stay overnight. This allows you to explore the rarely-visited areas of the park. It can also be nice to visit in the low season times when few others are in the park.
Lake Manyara National Park is located in northern Tanzania, nestled between the Ngorongoro Conservation Area and Tarangire National Park. The lake is located about 80 miles west of Arusha and is around 125 square miles in size.
The park is known for tree-climbing lions, but we see that behavior in Serengeti far more than we do in Manyara. Close encounters with highly habituated elephants, baboons, and vervet monkeys are all common. At the lake, flamingos and hippos are common sights. Bird life is outstanding and diverse. Other highlight species include zebra, giraffe and buffalo.
This park is best explored during quiet times of year like March through May and November to December. During these months, you can appreciate the beauty without jockeying with crowds of vehicles. Staying inside the park allows visitors the chance to enjoy early mornings with less vehicle traffic, which can help in peak season months.
Mahale National Park, known for chimp trekking, sets the standard for remoteness in Tanzania. This remoteness results in a more exclusive experience. Guests must take a four- to five-hour flight from either Arusha or Dar es Salaam, then travel another hour or so by panga boat in order to reach one of the three safari camps in Mahale National Park.
In 1965, while Jane Goodall and the chimps of Gombe Stream gained worldwide fame, Japanese researcher Toshisada Nishida was running a similar study in Mahale.
Mahale is 30 times the size of Gombe Stream and has much greater diversity of plants and animals, including many species that have disappeared from Gombe Stream. Tourists on chimp treks typically spend time with M Group, which numbers about 60 individuals.
The jungle of Mahale feels more like being in the Congo, which is far in the distance across Lake Tanganyika. This joining of jungle and beautiful lake with white sand beaches is pure magic, making Mahale one of the most spectacular and unique safari destinations throughout the continent.
The waters of the lake are lovely, and there is outstanding freshwater snorkeling with hundreds of colorful cichlid species to see. You can also enjoy the water by kayaking or cruising on a panga boat. The active thrill of chimp trekking combined with a beach holiday feel makes Mahale like nowhere else.
Mahale National Park is 623 square miles, located in the far western part of Tanzania – on the shores of Lake Tanganyika. There are two flights a week, so guests typically visit for 3 or 4 nights.
The planes stop at Katavi first, so many people combine the two parks for a fabulous wild west itinerary. We also have many clients that are focused on the Serengeti but add on Mahale for a very different experience.
Obviously, chimpanzees are the main attraction here. There can be no other wildlife viewing experience that can connect with one's soul more than spending time on foot with our closest wild relative.
The chimps can be loud, energetic, and dynamic. This makes viewing extremely exciting, and your hour each day in the company of chimps will provide amazing observational opportunities, possibly revealing behaviors that are very familiar and shared with humans. Time with chimps may resonate in your soul forever.
Seven other primate species may be seen, including both red colobus and black and white colobus monkeys. There are many bird species, which are often heard more than seen due to the thick jungle. One nice surprise is a stunning array of butterfly species.
Camps operate in Mahale all year except April and May, which are times of heavy rains. The seasonal nuances of chimpanzee trekking are subtle, but important for those seeking to view specific behaviors or reduce the trekking effort:
When food is abundant, chimps tend to socialize in larger groups with greater frequency of vocalizations. They also spend more time on the ground as opposed to in the tree canopy. The rainy season months can make trekking more challenging and limit the activity of the chimps who tend to hunker down during rainstorms and remain in the trees. As such, the best months for observing chimpanzee behavior with ideal trekking conditions are July through October. June and early July are the start of the dry season when the main source of food is the wild coffee fruit, found mainly in the high reaches of the mountains, making the trekking distance longer and more arduous. By late July, fruiting trees become more plentiful closer to the camp and is also the time of year when chimps can be seen hunting black and white colobus monkeys. When food is abundant, such as their favored figs and lemons, the chimps can be seen in larger groups. August through October, therefore, offer good viewing opportunities when the groups are more relaxed and likely to remain in the lowlands closer to camp.
Ngorongoro Crater is sometimes referred to as the "Eden of Africa" or the "Eighth Wonder of the World." Part of a UNESCO World Heritage Site and Biosphere Reserve, the Ngorongoro Crater is the largest intact and unfilled caldera (a crater caused by a collapsed volcano) in the world at twice the size of the Yellowstone caldera. The crater houses a wide variety of animals in large concentrations.
The crater is believed to have been formed by a volcanic eruption 2-3 million years ago. The resulting caldera covers over 100-square miles. The heavily-forested rim can soar up to 2,000 feet above the crater's floor, which is primarily grassland.
Due in part to its unique geographical layout, there is very little migration in or out of the crater. As a result, the chances to observe the variety of resident species is high.
Ngorongoro Conservation Area is located to the east of Serengeti National Park, 70 miles west of the city of Arusha. The crater itself is located another 20 miles or so into the conservation area.
The Crater is one of the best places in Tanzania to potentially see the highly endangered black rhino. There is a population of about 20 individuals concentrated in the Crater. The smaller area makes it easier to find these elusive, amazing animals compared to the Central Serengeti, where they are also present but much more spread out with lower density. The Crater is home to a variety of charismatic mammals, including wildebeest, zebra, gazelle, elephant, buffalo, and predators including lion, spotted hyena, jackals, and more. Rarely seen are cheetah and leopard.
The best time to go to Ngorongoro Crater is year-round, but it can be quite busy, particularly during the high season from June – October.
Ruaha National Park is Tanzania's largest national park. Ruaha is considered by many to be the definitive game park. It lies at the transition point of the northern acacia savanna and the southern miombo woodlands biomes, resulting in a tremendously diverse mix of East African and Southern African wildlife. For example, this is a rare place where striped hyena from the north, brown hyena from the south, and the wide-ranging spotted hyena all coexist.
The park is known for evocative scenery with rugged and highly variable terrain. The Ruaha River provides the only reliable source of water for a huge area, leading to intense wildlife viewing where animals are forced to come to the limited water during the dry season.
Despite the biological richness and dramatic landscape, the park only has five permanent camps/lodges and two seasonal tented camps for a total of about 100 beds (the Serengeti has at least seven times this amount). It is not unusual to go for long game drives in this great park and encounter no other vehicles.
Ruaha National Park is nearly 4,000 square miles in size and is located in the south-central portion of Tanzania, around 150 miles northwest of Selous Game Reserve. Together Ruaha and Selous form the Southern Circuit, a quieter and less crowded alternative to the Northern Circuit.
While this duo pairs well, we also love to add Katavi and Mahale for the ultimate remote Tanzania flying safari. Daily flights allow Ruaha to be combined with the Serengeti as well.
Ruaha contains Tanzania's best concentration of elephants, thousands of buffalo, large prides of lions, and surprisingly good populations of cheetah, leopard, sable, and roan antelope. Waterbuck, impala, eland, ostrich and giraffe are also seen. Black rhino are present but hard to see.
African wild dogs, spotted and striped hyena, black-backed jackal, and bat-eared fox are all present in good numbers. Over 570 species of birds have been recorded.
Ruaha National Park is best during the dry season when large quantities of animals move in. As the landscape dries up, the Ruaha River becomes the only major source of water. Quality game viewing occurs from June to November. Ease of game viewing typically improves throughout the season until the first major rains (usually in November).
 Solid game viewing remains possible through January, after which much of the wildlife disperses far from the park's core.
Located in southern Tanzania, Selous Game Reserve is the largest game reserve in all of Africa. However, photo tourism only takes place in the northern area of the reserve. Game here is less habituated than in other parks, which provides a more wild view but not as many diverse, intimate sightings.
It is an outstanding area for power-boating on a magnificent river with hippos, crocs, and elephants. It is also a very good area for walking. Lodging here can be quite upscale and among the more luxurious offerings in Tanzania.
Selous Game Reserve is a massive reserve (21,000 square miles) located in the southeastern part of Tanzania. Access is most commonly by scheduled or private charter flight from Dar es Salaam. Flights also operate from Arusha, Zanzibar and other parks.
Large numbers of hippo and crocodile are present in the park's main river, the Rufiji, and its tributaries. Colubus monkeys can be found in the forests near the river. Herds of buffalo can number over 1,000 individuals, but unfortunately, poaching decimated a lot of the elephant population in Selous. However, in the northern area where photographic safaris take place, there are still good numbers of elephant. Logging operations have added to the pressure on the wildlife and park, making tourism a critical source of funding to prevent the park from further exploitation.
There are also large populations of lion, leopard, hartebeest, and greater kudu, and smaller numbers of African wild dog, impala, giraffe, zebra, wildebeest. There is a small number of black rhino.  
The best time to go to Selous Game Reserve is July through November, during the dry season.
Serengeti National Park is perhaps the most famous park on Earth and is the quintessential image of safari and Africa for most people. The Serengeti is home to The Great Migration, consisting of millions of wildebeest, zebra, and gazelles which attract predators such as lions, spotted hyenas, and cheetahs.
Vehicle crowding can be a small issue as you must stay on roads and be back at camp by nightfall in most areas of the park. This issue is alleviated during the calving season since the main action takes place in the Ndutu area where off-road driving is allowed. With thousands of wildebeest being birthed within a few weeks and incredible predator interactions, the calving season can be a unique option.
While the Serengeti is definitely not as exclusive as low tourism destinations, the sheer numbers of animals seen simply cannot be matched.
Serengeti National Park is located in the northern part of Tanzania and borders the southern border of Kenya. Ngorongoro lies just to the east of Serengeti National Park. The park is massive – more than 5,500 square miles, roughly 10 times the size of Kenya's Masai Mara.
The Serengeti is most well-known for the Great Migration. It is the stage for this incredible spectacle of nature, in which nearly 2 million wildebeest, gazelle and zebra follow their migratory path from North to South and back, as they follow the annual rainfall patterns. From December through April, the Migration gathers in the southern Serengeti / Ndutu region for the Calving Season. Synchronized, irruptive birthing takes place typically for a few weeks in mid to late February. From May into June, the herds migrate to the Western Corridor and Grumeti region, before heading further north to the Northern Serengeti, where the world-famous, dramatic crossings of the Mara River take place from about July – October. Some of the animals migrate all the way into Kenya but the majority actually stay within Tanzania.  Come October and November, the herds begin to move south again as their migration cycle repeats. The Big Five and nearly all the iconic, charismatic safari species are found in the Serengeti, from giraffe, zebra, topi and hippo to rhino, elephant, spotted hyena, jackals and bat-eared fox. Big cats are abundant in the Serengeti, and lion, leopard, and cheetah are found in all areas of the park. The Southern Serengeti / Ndutu region is the best place in the world to see cheetah hunts. There are also African wild dogs in this area – a rarity in northern Tanzania. The Central Serengeti is particularly good for spotting lions and leopard on rock kopjes and for seeking out the elusive black rhino.
Serengeti National Park is a stellar destination all year round. We will advise you on the best locations to stay depending on the time of year you travel.
Elephant lovers should take note of Tarangire National Park, which boasts the largest concentration of elephants in northern Tanzania. The park also offers amazing scenery (including rare baobab trees), birding, and tranquility. Many pre-set Northern Circuit safaris give only a single day to Tarangire, or skip it all together. This means Tarangire can be a bit quieter than other parks. Tarangire is definitely best during the dry season of July through September when water scarcity attracts high concentrations of animals and limited vegetation makes viewing easier.
Tarangire National Park is 1,100 square miles, located just south of Lake Manyara National Park and about 75 miles southwest of Arusha.
Tarangire is best known for its large breeding herds of elephant, but is also home to large numbers of Grant's and Thomson's gazelle, impala, hartebeest, reedbuck, mongoose, giraffe and zebra.  It is also a great place to see lions in trees. One of the more unique species here is the oryx, which is typically found in desert areas in southern Africa. Over 550 species of birds have been recorded, including magpie shrike, coqui francolin, Fischer's lovebird, lilac-breasted roller, white-bellied go-away bird and lappet-faced vulture.   There are also cheetah, leopard and African wild dog in the park, though they are harder to see.
The best time to go to Tarangire is during the dry season from July through September. Wildlife concentrations are highest during this time, resulting in incredible sightings.
Zanzibar is an exotic former trading post on the East Africa spice route known for its history of spice trading, unique mix of African and Arabic cultures, and its world-class coral reefs. 
The historic Arabic architecture of Stone Town, and the Spice Tour that travels to nearby spice gardens and farms, are both unique highlights of Zanzibar. 
Popular water activities include snorkeling, scuba diving, kayaking, sailing on a traditional 'dhow' boat, kitesurfing and enjoying the beaches, to name a few.
Zanzibar is located just 20 miles off the east coast of mainalnd Tanzania, accessed most easily by scheduled flights from Dar es Salaam and Arusha. Safari goers can easily end their trip with a beach extension to Zanzibar, with new daily connecting flights from the Serengeti to Zanzibar.
Marine wildlife in the waters off Zanzibar's coast includes a wide variety of brightly colored reef fish, dolphins, green turtles and the whale shark. 
The Jozani Forest is home to the Zanzibar red colobus monkey – one of the most rare and endangered primates in Africa. The rare Fischer's turaco, paradise flycatcher and banded wattle-eye are highlights when it comes to bird species.
Pemba Island is the smallest of the three main Tanzania islands but offers some of the best scuba diving in all of Africa and the world. The Pemba Channel runs between Pemba and mainland Africa, with depths up to 2,625 feet and sheer underwater walls with drops of 150 to 600 feet. Lodging is more simple and rustic, and the island is laid-back and easygoing.  And a fun fact – Pemba Island yields around 70% of the world's cloves! 
Pemba is located 16 miles north of Zanzibar Island, near the border of Kenya. Access is by boat transfer from Zanzibar to Pemba Harbor, or a scheduled or charter flight from Zanzibar. 
Highlights for divers often include eagle ray, grouper, tuna and a variety of tropical fish. There are also bottlenose and spinner dolphins. 
Mafia Island is a more remote, exclusive and serene island experience as compared to the bustling Zanzibar.  It is widely recognized as one of the best diving spots in the Tanzania islands and the Indian Ocean. 
Aside from diving, other popular activities include fishing, wildlife viewing in the interior forests, snorkeling, sea kayaking, dhow cruises, and tours of historic ruins.
Mafia Island is located south of Zanzibar island. Access is by scheduled or charter flights from Dar Es Salaam.
Large portions of the southern coastline and surrounding waters are protected by Mafia Island Marine Park. Over 400 species of fish have been recorded, and dugongs, reef sharks and dolphins are also seen. From October to March, visitors can snorkel or scuba dive with whale sharks. From June to September, sea turtles are hatching on the beaches. In August and September, humpback whales can be spotted migrating past the island.
In the island's interior forests, species that can be spotted include a stunning variety of bird life, monkeys, antelope, wild pigs, bushbabies and even hippos.