Activity Options on Safari
There are a wide range of activities possible on your safari in Africa — almost anything you can dream of is offered somewhere in the safari world. Game drives are the core of most safaris since that is the easiest, most effective way to view the wildlife. However, if your dream includes something less obvious, such as safari on horseback, tracking wildlife with a Bushman guide, or even learning to drive a 4×4 off road, let us know what you are interested in and we can help plan your perfect safari. Many safari travelers enjoy a bit of variety in activities, so there are growing opportunities for walking, biking, and canoeing. But, for the hard core wildlife enthusiast, your safari can be made up exclusively of game drives – the beauty of a custom planned trip is tailoring the activities to exactly what you want.
Below is an overview of activities, but if you don't see what you are interested in, just ask your planner, as almost anything is possible.
A game drive is a safari using 4×4 vehicles typically with three rows of seats behind the
driver. We prefer to use camps that limit the vehicle occupancy to no more than six
guests per vehicle so that everyone is guaranteed a "window seat." Some vehicles 
have a seat in front for a tracker who helps the guide search for wildlife and "reads"
the road for tracks. The vehicles also feature open sides with removable sun canopies.
It is common for overland trips to utilize closed vehicles, which protect guests from dusty roads while in transit. Some parks, such as the Ngorongoro Crater in Tanzania, require that all vehicles are closed. Not all vehicles are created equal, however. The Wild Source Tanzania has custom-designed Land Cruisers with extra large, removable windows to provide an open feel and better access for photography.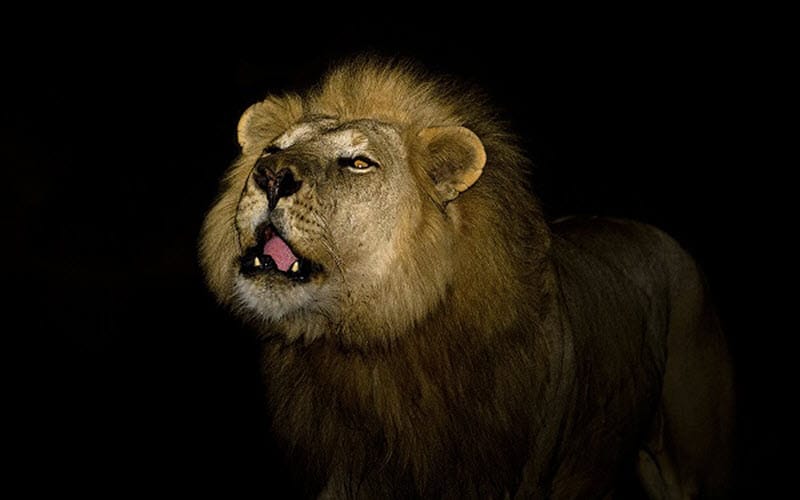 Night drives are widely available, aside from within National Parks (National Parks in Zambia are an exception). They can vary in form and rhythm. A night drive in a safari vehicle might happen on your way back to camp following a sunset cocktail hour or it may be more involved, setting out from camp after dinner to search for nocturnal species. Some camps accommodate night drive requests better than others, and not all experiences are created equal. If nocturnal animals are important on your checklist, you'll need to design accordingly. For those who enjoy predator viewing, it's a huge advantage to be able to stay out after dark rather than having to return back to camp by sunset.
Depending on your location, following a stop for a sundowner drink, the guide (or tracker/spotter) will use a spotlight to search for animals after dark on your way back to camp. If you run into great activity, such as hunting lions, the night drive may extend longer as you stick with the action. This adds to the diversity of your wildlife experience  as about a third of species are typically only active at night. Animals such as big cats are often more active at night, giving you the chance to witness more behavior.
Few visitors have the energy for night drives after the pre-sunrise wake up for morning game viewing but upon request, it can be possible to have an after-dinner game drive which increases the chances of finding the more nocturnal species that are seen with less frequency in the early evening.
Walking safaris can vary widely depending on the destination. They can be a simple, fun activity like a 1-hour nature walk up to full day outings in search of megafauna. What they all have in common is the opportunity to experience the African bush with all of your senses, learn the deeper connections among species, and ensure you are traveling with a local guide who has surpassed the minimum qualification levels. Walking safaris generally are not strenuous. Depending on the season, walks might be offered as a supplement to a game drive rather than an entirely separate activity if the midday heat needs to be avoided.
Taking to foot opens up a whole new world. It is a chance to discover little things that are rarely experienced from the vehicle. Special attention is given to looking at spoor (tracks) and other signs such as dung or leopard scratches on a tree. This is also a time to learn about plants and how locals make use of them.
Many active travelers are simply excited to get some exercise and break up the game drive routine. Please keep in mind, bush walks in safari areas are not high pulse exercise walks.  The presence of large, potentially dangerous wild animals requires that the guide leads you with bush craft, paying attention to the wind and where you are traveling. By moving with such purpose, it is actually a very safe activity. If you do encounter big wildlife it is amazing; seeing any large megafauna on foot feels quite different then seeing them from a vehicle.
In most areas, a walk is an activity of 2 to 3 hours, in lieu of a game drive. There are some places where you can have a safari that focuses on serious walking, taking to foot daily and sometimes walking between camps. In Zambia and Zimbabwe, walking safaris have been a regular highlight for decades. Because walks are such a regular activity in these countries, much of the wildlife has become habituated to humans walking among the landscape thus making it possible to view more species, and get closer on foot than is possible in other safari areas.
Having quality cultural experiences is both the easiest and most challenging facet to incorporate into a safari. The 'easy' comes from the organic cultural experience of just being in the company of your local guide, camp staff, and, depending on your location, passing through local towns along your journey.
Planning additional cultural visits is highly recommended and a wonderful way to learn. The challenge is finding low impact, less touristic opportunities that are located near excellent game viewing. This is not always an easy task but we have a list of recommended places that offer high quality cultural interactions with the Bushmen, Hadza, Maasai, Samburu, Himba and others. There are also more cosmopolitan opportunities in larger cities and villages.
'Mokoro' Canoe Safari and Boat Safaris
In locations with rivers, flood channels, or lakes there are often opportunities to take to the water in various craft. Canoeing is ideal for active adventure travelers and can be done as one activity or as a multi-day safari. In Botswana's Okavango Delta, 'mokoro' is the traditional dugout canoe. Your guide poles the canoe along like a gondola. Power boat safaris are a popular activity on the channels and lagoons of the Okavango Delta.  Kayaking is available in many coastal areas, or on rivers such as the Zambezi River – – which spans from the lower Zambezi in Zambia down to where it meets the Indian Ocean in Mozambique. White water rafting is possible in adventure destinations like Victoria Falls.
Instead of staying at a fixed safari lodge or tented camp, An overnight boat safari provides you with your own accommodations on…. you guessed it: a boat. Extended 2-3 night safaris on house boats are a relaxing way to explore larger waterways such as the Chobe River which meanders along the northern part of Chobe National Park. Fishing is also popular in many boating areas, where you can catch-and-release tiger fish, for example. The safari animal selection is quite abundant as well. You're bound to see hippo, crocodiles, and many more exciting fauna that congregate at the water to cool off and rehydrate.
If boat-based activities and viewing different animals from the water are priorities, you'll want to design your trip to include destinations where these activities abound, as some East African countries or regions within southern Africa offer very few water activities.
Some wildlife researchers invite guests to participate in their activities or will give special lectures. If you have a special interest in research, let us know and we can tailor your itinerary accordingly. We have connections with wildlife biologists and leading research organizations, as well as sample itineraries tailored to research interests of African animals such as cheetah conservation in Serengeti National Park, or elephant identification near Tarangire National Park, that can serve as a starting point – especially if you want to center your learning and research around a particular animal.
In Tanzania, we employ a team of local biologists who are studying the big cats of the Serengeti and Ndutu ecosystems. During your Tanzania safari it's possible for the biologists to join your game drive as you help them collect and record observational data that is submitted to leading research and conservation organizations.
Wildlife Interactions and Encounters
This is an area we are very wary of as we are always concerned about the welfare of the animals involved. These projects are often described as having a conservation purpose when they are actually just a money maker.
For those who want to be hands-on, there is an excellent opportunity to do so in Botswana with orphaned elephants. In Botswana and South Africa there are also chances to be in close proximity to habituated meerkats. In Kenya, there are opportunities to visit reputable wildlife rescue sanctuaries like the Sheldrick Wildlife Trust and AFEW Giraffe Center.
An activity like this can be a logical offshoot for a family safari. For children to get close up to animals can certainly be awe inspiring and create memories that will last forever.
Trekking opportunities in Africa are abundant, from the multi-day summit of Africa's
tallest mountain, Mt. Kilimanjaro, to the desert landscape of the Tok Tokkie Trail in
Namibia, to the vast Simian Mountains of Ethiopia. There are full-day treks such as
the treks to endangered mountain gorillas and other primates of Uganda, Rwanda,
Tanzania, and the Congo. 
Trekking can range anywhere from a half-day to multiple days depending on the experience. While wildlife opportunities are possible, trekking generally does not provide as plentiful of megafauna as standard game drives, save for the mountain gorillas, which is one of the most intimate wildlife experiences available on the continent. 
The experience of trekking offers an immersion in nature and a different way to enjoy the landscapes of the continent, and combines well with a traditional safari.
Hot Air Balloon on Safari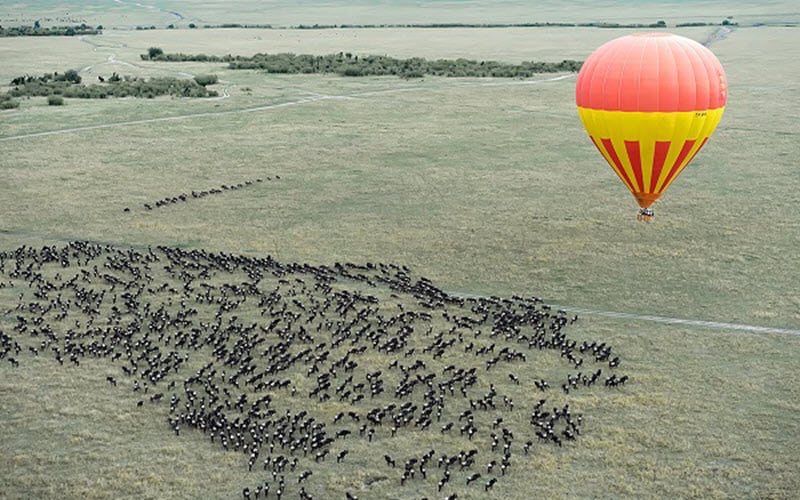 Floating above the earth in a hot air balloon, taking in the Great Migration herds or as many members of the Big Five as you can, while drifting over wildlife and stunning scenery is a popular "bucket list" addition for many safari travelers. The Serengeti, Masai Mara and sand dunes of Namibia are the most famous areas for this type of unique safari experience. Ballooning is an expensive addition, averaging around $500 per person, but can provide a spectacular morning capped off with a Champagne bush breakfast after your flight.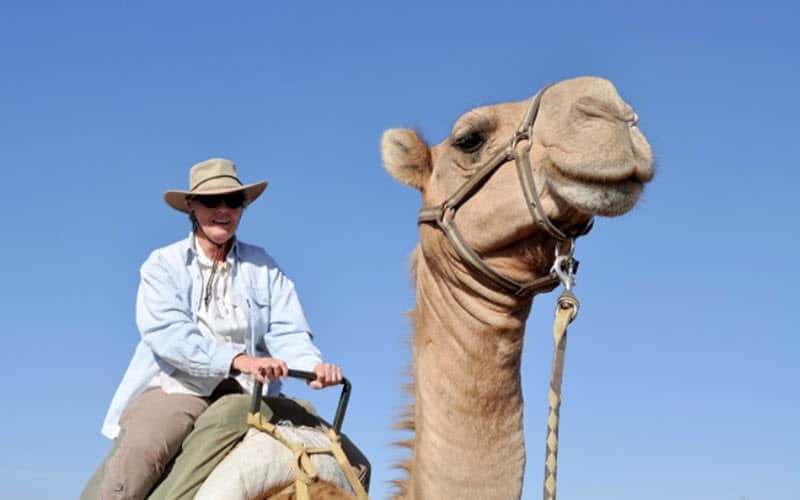 Central Kenya and Botswana are two of the best destinations for horseback safaris. There are select safari operators that specialize in horseback safaris. Many safaris are multi-day rides and require a high level of skill as you really integrate into the wild. Some places also offer one-off shorter rides that are suitable for other levels. Camels are another option for a one-off activity or a multi-day trip.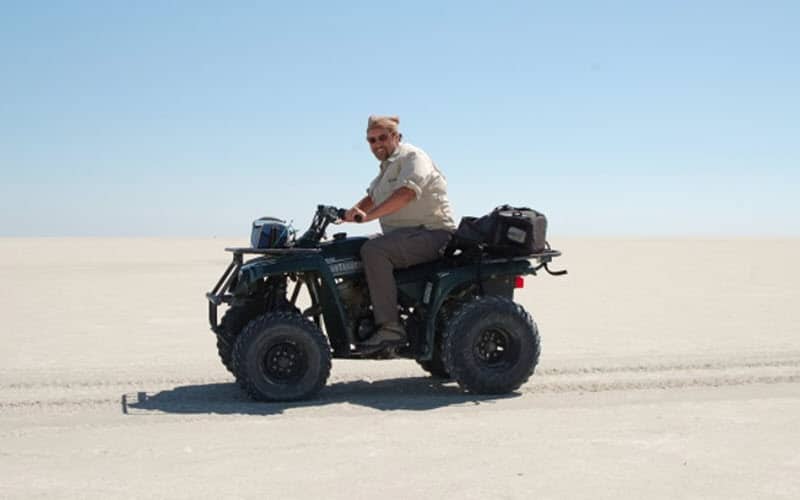 If you are seeking a bit more adrenaline and adventure, some areas offer quad biking and ATV related safari activities. This is most commonly available in the desert regions of Botswana, such as the Makgadikgadi salt pans where you can cruise across the vast desert landscape, and sometimes even sleep out under the stars. This activity is more common in areas where landscape and scenery are the draw more than wildlife viewing.
Scuba / Snorkeling / Beach
Africa has thousands of miles of coast providing lots of high quality opportunities to visit beaches and high quality reefs with scuba or snorkeling.  Some of the best shark and whale viewing areas in the world are off the coast of South Africa, while the exotic island of Zanzibar off Tanzania's east coast offers unprecedented diving opportunities.  If you are a serious diver, we can tailor the beach portion of your safari trip accordingly.