Creative Comfort in the Wild
Safari travel offers an amazing range of accommodation options, from camping in simple dome tents to staying in large, extravagant suites that include private plunge pools and a full range of luxury amenities. There is something for virtually every style. The level of accommodation is a major factor in the price of a safari, with the other main factor being the strategic location that the camp offers. Location is paramount in our safari planning, as we strive to get you in the right place at the right time of year for the wildlife you want to see.
The following is a general overview of the accommodation options available while on safari.
For many, staying under canvas is the safari dream. We are huge fans of tented safari camps because it increases your connection to the wilderness. With tents, you can hear the sounds of the animals, breathe the fresh air, and immerse in the natural rhythm surrounding you. Basically, you have a 24 hour safari experience when staying in a tent.
Never been camping or do not like camping? Do not let these worries eliminate staying under canvas until you have seen some of the choices. Forget the bed roll and long drop loo, the vast majority of tented camps are fully serviced by attentive staff, provide gourmet meals, include drinks, and have laundry service. The tents are fully kitted out with real beds and all the other comforts needed. At many luxury camps, it is common to hear guests comment, "The space is nicer than my home!"
The tented camp categories are further classified below.
Permanent tented camps remain fixed in a location which allows them to offer robust operations. Tents frequently rest on elevated platforms with hardwood floors and canvas walls. Bathrooms are en-suite with 24-hour running water for sinks, showers, and flushing toilets. Central lounge areas are usually substantial and many include swimming pools. Ultra luxury permanent tented camps deliver the ultimate luxury experience with private plunge pools, butler service, enormous living spaces, the finest linens, and so on.
This style of tent is the top choice for people who want to feel connected to the wilderness but still enjoy lots of pampered luxury.
Seasonal mobile camps deliver the classic safari experience. The camp is assembled to remain in a single location for months at a time and will move locations two or three times in a year. This allows the camp to follow the seasonal movements of wildlife and ensure the location is always outstanding.
Tents are usually set on the ground, and as the camp remains in place for months it can still be well kitted out with real beds, some furniture, and an en-suite bathroom. Because the locations are not permanent, ingenious temporary plumbing systems with water storage tanks provide tents with running water in sinks and for flushing toilets. In order to provide hot showers, a bucket shower (sometimes called a safari shower) is used. The staff heats the water and hoists a bucket about the tent, which then feeds by gravity into a private shower stall inside the tent. Most camps have a large canvas dining tent and smaller tented lounge area. Service and food can be on par with permanent tented camps.
These camps are ideal for people who place a high value on having access to the best locations, who plan to spend the majority of their time out exploring, and who appreciate comfort without the need for extra luxuries.
The original safari camp, a true mobile camp, is moved between locations on a safari itinerary. This requires a lighter weight and less furnished setup. This type of mobile camp is common for lower cost mobile safaris, using smaller tents that may or may not be en-suite. Dome tents with a cot or bed roll and shared bathroom facilities are the most primitive form of accommodation used. Some kits provide en-suite bathrooms with either pit toilets or chemical toilets. There are some high end private mobile camps that offer the seasonal camp accommodation level, providing the ultimate privilege of an exclusive experience with a private camp for just your party.
Mobile camps are the best fit for those who want a lower cost option and enjoy an adventurous camping experience with minimal amenities. It is also important to understand that the mobile camps are operating in national parks and game reserves, which means they are usually limited to daytime, on-road game driving only. The campsite locations, safari access, activity variety, vehicle quality, and number of guests in a vehicle are the major considerations when comparing options for experiential value.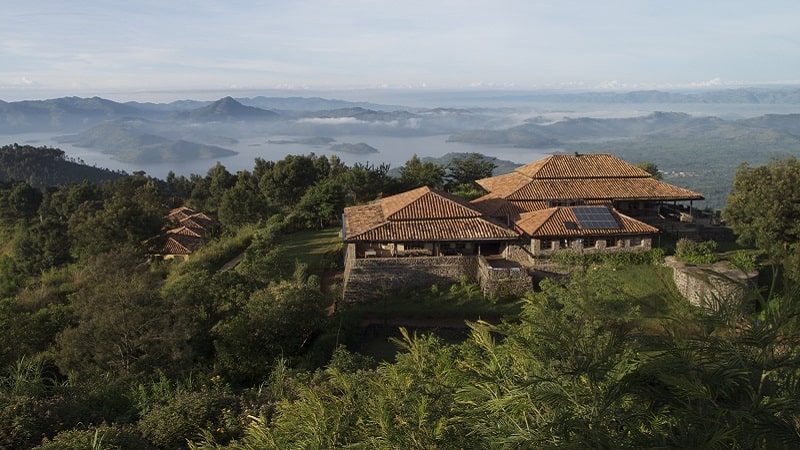 Safari lodges are permanent structures with a heavier build than canvas tented camps. They typically consist of chalets or bungalows with walls of mortar and glass, however the variety ranges widely across the continent, from thatched rondavels to contemporary architectural statements. Many assume a lodge will be more luxurious than a tented camp, but this is not always the case. It is also a misconception that they are safer than tented camps, however lodges can offer a buffer from the outdoors, which puts some travelers at ease. Some lodges offer a hotel-style experience, which usually costs less than tented camps, since they are larger properties with many accommodation units. Rooms offer a standardized hotel feel and layout, and food is usually buffet style. Advantages generally are location and price to help stretch the budget. They also can offer flexibility for family groups with interleading rooms for parents with children.
Boutique-style lodges offer an equally intimate experience as tented camps. Rooms are often spread out across expansive grounds where activities can vary beyond wildlife safaris, such as coffee plantation tours, cultural outings, yoga, swimming pools, etc.