Trip Report: Botswana and Zimbabwe
This trip report and photos were shared by John and Ann, travelers with The Wild Source in November and December 2022.

We had gone on safari in South Africa in 2012 and were looking forward to seeing more animals in the wild. We started planning this trip in 2019, and we intended to travel in November 2020. Well, you know what happened. We rescheduled it for November 2021 and again for November 2022, when we finally went.
The folks at The Wild Source were fabulous in helping us tailor our trip to fit our interests. We spent our first few days on this trip in Cape Town, South Africa. From there, we flew to Botswana and stayed at Splash Camp on the Okavango Delta, Lagoon Camp in the Kwando Reserve, and then The Elephant Camp near Victoria Falls National Park in Zimbabwe. We had a family emergency toward the end of our trip and the TWS staff were phenomenal in helping us rearrange our flights home.
We had fabulous guides and trackers who knew the locales and the inhabitants. For example, "TJ" at Splash Camp said that he helped map the area and could tell us where we were even if he was blindfolded. That might be a tad bit of an exaggeration, but he clearly knew where to go, zipping through the bush. Indeed, as we were following some animals, we literally did drive through the bush, running over small trees and shrubs to get good views of the animals.
Early in our trip, we crossed paths with a pride of lions lounging in the shade.
Later, we came across a lion who had killed a zebra. When we returned the next day, she was literally lying in a bush, protecting what was left of her kill.
We saw a lazy leopard lying in a tree.
We saw a pair of male cheetahs, including one who climbed up a tree, calling for a mate.
Some of our favorite animals were African wild dogs (also known as painted wolves) – so named to distinguish them from domestic dogs, we were told. They seemed very playful.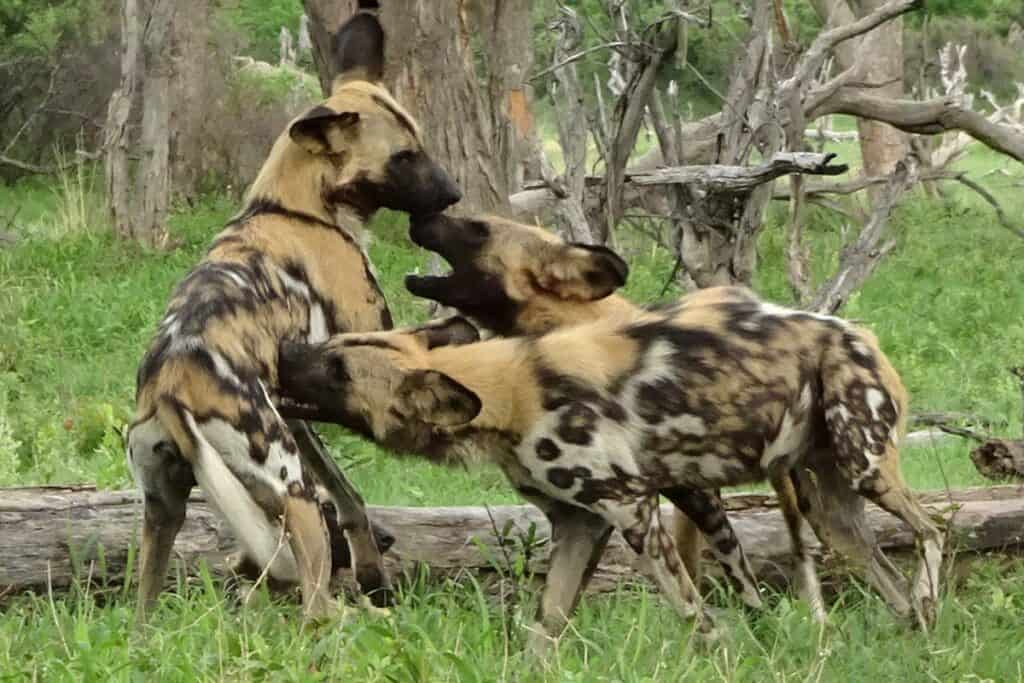 Here's a mother and child jackal.
And some giraffes and zebras.
And elephants – and humans.
One evening, we went out in a small boat on the Delta and spent a half an hour watching hippos who were watching us.
Some seemed to get bored watching us.
But this parent and child Cape buffalo were interested.
November is in the dry season for Victoria Falls, so it's not as dramatic as in the spring, but having less water flowing makes it easier to see the Mighty Zambezi River above the falls. We walked on a trail opposite the falls and also took a helicopter flight over the falls. On a previous trip, I went whitewater rafting below the falls. Not this time, but we saw some kayakers.
Finally, we saw some great sunsets.